Slimline Sliding Doors
Searching for a sense of innovation in your home? Then your abode could benefit from slimline sliding doors. At Love Windows & Doors, we don't just measure and install your needs, we source them too. We have a fantastic array of suppliers, all with their own benefits. After the very latest in door technology? Then Buckinghamshire based Origin could be the company for you.
Origin 
If you've had sliding doors in the past, then you know how arduous and heavy some can be. That's not the case with Origin. Whilst day-to-day exertion could play havoc with your back, an entrance shouldn't close the door on your enjoyment. With Origin's OS20 slimline sliding door, you needn't worry about looking over your shoulder. Lightweight, strong and guaranteed to last up to 20 years, this optimised door doesn't slide – it glides.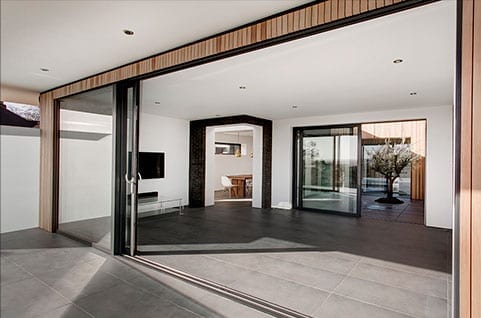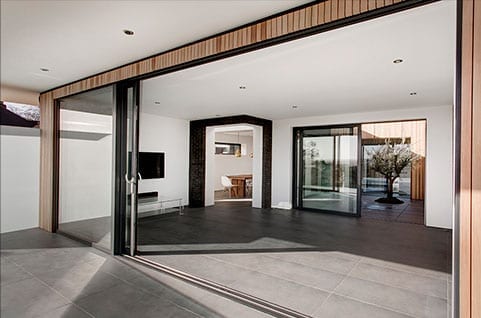 Aluk
It'd be a pain if you didn't care about letting sunlight into your home. That's because Aluk's slimline sliding doors utilise wall sized panes to maximise just that. Sunlight not only provides your body with Vitamin D, it helps a hormone called serotonin. When released, this increases your mood and leaves you feeling relaxed and motivated. Besides, sunlight's not only being great for your health, it's also great for your energy bill too! So why not bring the outside inside for a change?
When closed, like the Origin OS20, Aluk's doors maintain the internal temperature of your home. It also fortifies you from bad weather. This should be obvious but Aluk's doors are so clear, you'd be hard-pressed to tell whether they're open or closed! That said, despite being so slimline, they're not only robust but durable too. Thoroughly tested to meet industry regulations, you home is more than secure.
Alutech Systems
With a chief desire to maximise the view of your garden, Alutech went one step further. They went ahead and used the least amount of aluminium as possible. That's right. More pane and less frame. This way, when you're inside you won't miss out on the events that matter outside. So, if your son or daughter are learning to ride a bike, you can watch on with the peace of mind that you didn't miss out on it. That said, keep an eye on the flower beds!
Copyright © 2023 DG INSTALLATIONS SURREY LTD
All Rights Reserved.
Copyright © 2023 DG INSTALLATIONS SURREY LTD All Rights Reserved.